Caps Lock, Num Lock, Scroll Lock, and more in your Tray!
Do you have a laptop or keyboard without key lock status indicators on it? Do you want to see your CPU, memory or custom performance counters in your system tray? TrayStatus can do all of that, and more! TrayStatus shows the status of your Caps Lock, Num Lock, Scroll Lock, and many more keys right in your system tray. You can also create custom performance counter indicators, hide inactive indicators, show an indicator for the status of apps playing audio and more. TrayStatus is completely free to use the basic features, or you can upgrade to the Pro version after a 30-day trial. Try it for free today!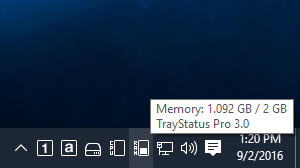 | | |
| --- | --- |
| Show the status of the Caps Lock, Num Lock, Scroll Lock, Kana, Alt, Ctrl, Shift and Win keys in your system tray. | Show CPU, memory, or hard drive activity, or use performance counters to monitor things like disk queue length, network activity, IIS requests and much more. |
| Play a sound or show a tray notification when a key is toggled. | Double-click a Status Indicator to toggle that key's lock status. |
| Use the built-in light or dark icon themes, or create your own custom icon themes to suit your style. | TrayStatus is translated into many different languages for easier use. |
"All of us, at one point, have accidentally pressed the Caps Lock key or Num Lock key by accident. Then, you type a password and wonder why it doesn't work. Wouldn't it be nice to know at a glance the status of your Caps Lock and Num Lock keys?"
Download Now
Show Caps Lock status
Show Num Lock status
Show Scroll Lock status
Show Kana Lock status
Show Alt, Ctrl, Shift, Win Key status
Show hard drive activity
Show CPU usage
Show memory usage
Show audio playback status
Use performance counters as indicators
Double-click icons to toggle key
Play sound when key is toggled
Show notification when key is toggled
Use built-in light or dark icon theme
Use custom icon themes
Basic features are completely free with no time limit